Howdy all!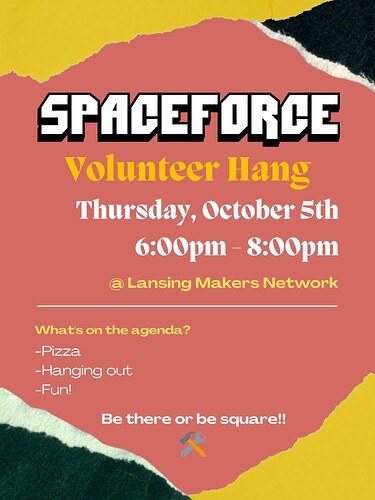 Since Spaceforce volunteers end up separated by shift, this is an opportunity for everyone to see each other and hang out a little!
We're gonna have pizza. We're gonna have (undecided) games and activities. We're gonna have a cool, low-stakes time to just be chill or whatever. It's easy! You might as well come!
This event is focused on past and present Spaceforce volunteers, but anyone who feels like dropping by is encouraged to say hello and pick up a slice. No worries if you haven't been around in a while, and there's no pressure to start volunteering again! We'll just be happy to see all of the faces that have helped make LMN a cool place.
RSVP if you're able, and let me know if you have any dietary restrictions. This will directly impact how much pizza I buy, so get to it!
Excited to see everyone soon!