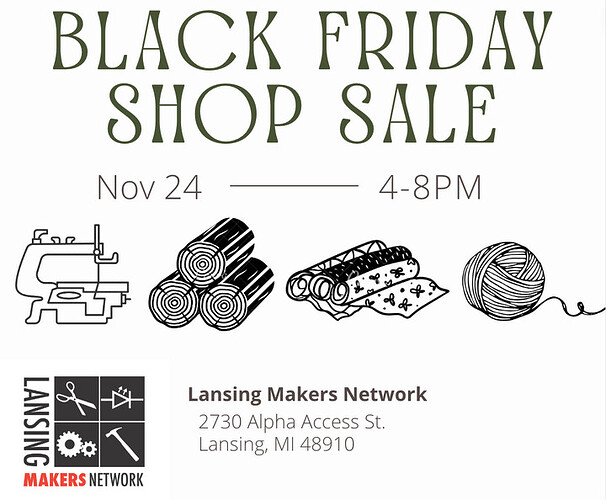 Hey all!
This Friday, while the shop is closed, we'll be opening our doors for a quick Black Friday sale!
For sale will be extra tools and materials that have been languishing in storage, and all proceeds will go towards LMN operational costs. No tools that are currently in rotation will be leaving our space.
A non-exhaustive list of items for sale (I'll add stuff as I go through storage and get permission this week)
Scroll Saw
Cricut v1 with cartridges
Silhouette cutter
3D Printers needing repair
Ceramics kiln good for raku firing or parts
Yarn and crochet thread
Bolts of specialty fabric
20ft convention display
Historic Spinning Wheel
Handmade Adirondack Chairs
Interested in buying some stuff? Come on out! 4-8pm.
Know anyone interested in any of these items? Please share this event with them: Black Friday Shop Sale
Able to help volunteer for a few hours that evening? Please contact Lex.
Have something that you'd like to donate to sell? Contact Lex for this as well. If it doesn't sell, we'll ask you to take it back with you. Storage is full at the moment.
@areamanagers: If there is anything in your areas that you would like to add to the sale, please put
by the wall in the shop outside of the break room. Include a fair price on a note.