So, I'm cooking up this idea and I'm looking for electronics advice. My garage door opener button attached to the wall is one like this: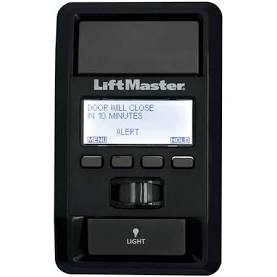 https://smile.amazon.com/Control-COMPATIBLE-LiftMaster-Security-Openers/dp/B07B284C9N
Its got a little LCD on it that displays if the door is open that its going to automatically close in XXX minutes, has a button for the lights, and all that jazz. From what I've been able to read about these, it seems they still just close a switch to open the door (short the two wires together) and there's a resistor logic kind of thing happening to switch the light on instead. And clearly its stealing power from the opener b/c there isn't a battery in this thing.
So, here's my quandry: from what I've read this is likely a 10VDC line coming down from the opener. I want to add a Wemos D1 to control the opener remotely, but I'm wondering about the chances of powering it off the garage door and using a large cap to keep the wemos running while it shorts the power to trigger the opener.
What are my gotchas ? I need to get a meter on it and check what the voltage on mine actually is, but I suppose I should also check what sort of current triggers the door? Thoughts on how to do that? What might a circuit look like that allows the wemos to short its supply power while keeping itself alive? Worst case scenario, it could trip the relay, lose power to itself, and it would just reset. Not the end of the world, but not super elegant either.
And sure, I could power it off a 5v wart and just have a relay board trigger the door, but wheres the fun in that?